Dear Harriet Walter,
My legs are telling me that the decision to hike Mt. Baldy yesterday (with a group from school) may not have been one of the most well-advised decisions I have made within the span of my life so far.
Today, I cannot walk except after the waddling fashion of a drunk penguin. I cannot make it down stairs except sideways or with the aid of my butt. Even after 9 1/2 hours of sleep last night, I could barely sing in church this morning because my lungs and physical heart felt raw and exhausted.
Mt. Baldy is about ten thousand feet tall, extremely steep, and generally regarded as the most difficult hike in Southern California. Or was it all of California? Also the hike's about 9.2 miles round trip and I'd never hiked anything longer than about 3 miles. Or anything steep. Or dealt with elevation. Mmmmm choices yerz mature and informed wunz oyerz.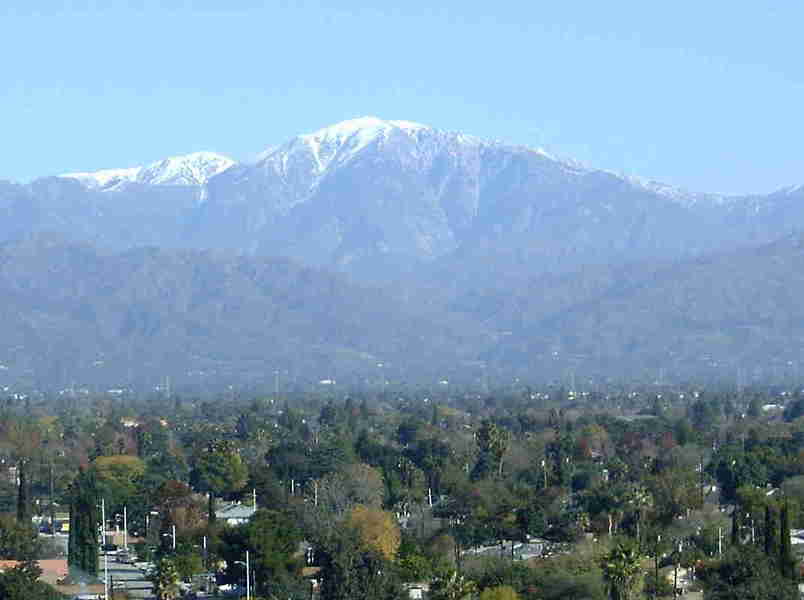 That one. Except without the snow. (picture from Google.)
Picture that roommate Marissa took. Not at the top.
random picture from Marissa of friend Kim (right), me (center, dyed my hair brown recently) and PME (left) that I liked.
Professor Mine Enemy, who was leading the hike, spent a couple of considerable chunks of time babysitting me. Coaching. Shepherding. Mother-henning, essentially. I was being a weak, gasping slowpoke and had to stop a lot and he'd stay with me, wait for me to catch my breath, make me get going again, give me little pep talks about conquering sections and going from strength to strength, tell me to stop apologizing, and so on. (He later did this for one of the upperclassmen who was having trouble with the descent, and I think talked with her about music most of the time. Dude is a good and faithful shepherd.) Really being just so extremely nice. It was sweet and also humiliating.
(I feel like I should reiterate that the nickname is a complete misnomer by now and he's one of my favorite people in the world.)
SO I CLIMBED ALL THE WAY TO THE TOP OF MOUNT BALDY AND BACK DOWN AND WENT HOME TO COLLEGE AND SHOWERED AND THEN STUDIED THE GRAMMAR OF KOINE GREEK LAST SATURDAY WHAT DID YOU DO
When I was a kid I could never picture myself being twenty years old. It sounded so ancient and distant and impossible and I could never imagine what it would look like for me.
Well!